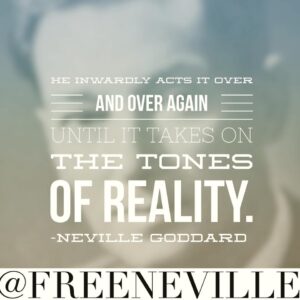 "Work out the last scene, which implies the theme is realized. What would I do were I successful? What would I see ? What would I say? How would I act? Well, then construct one little theme or little scene which implies the fulfillment of my desire…"
"It can be anything in this world, and so he puts himself through the paces by simply inwardly enacting the drama that he himself has constructed, and whatever it would be that he has constructed, which drama implies the fulfillment of his theme, he inwardly acts it over and over and over again until it takes on the tones of reality."
"When inwardly he feels natural in the part that in which he is now self-rehearsed, the curtain will rise and he will see it there. He will cast the inner drama on the screen of space and he will see moving on the screen of space all the characters necessary to complete the play." – Neville Goddard
This Feel It Real Quote is from the lecture:
The Four Mighty Ones by Neville Goddard
Want to know if you are Feeling It Real effectively?
Read this: Are You Imagining The Right Scene?
And go see this Feel It Real Success Story that came from this artice! It's a goodie!
David's $20,000 Feel It Real Success Story
Summary
Article Name
Feel It Real - Neville Goddard Quotes
Description
"He inwardly acts it over and over and over again until it takes on the tones of reality."
Author